Definition of web application
A web application refers to application software hosted on a server and accessible via a web browser.
Unlike traditional software, the user of a web application does not need to install it on his computer. All they have to do is connect to the application using their favorite browser. The current trend is to offer a user experience and functionalities equivalent to software installed directly on computers. The technologies used to develop web applications are the same as those used in the creation of websites .
Cloud computing is therefore this phenomenon in rapid expansion which aims to make the traditional software model evolve towards the Internet and mobile telephony is integrated as an extension of use to this model.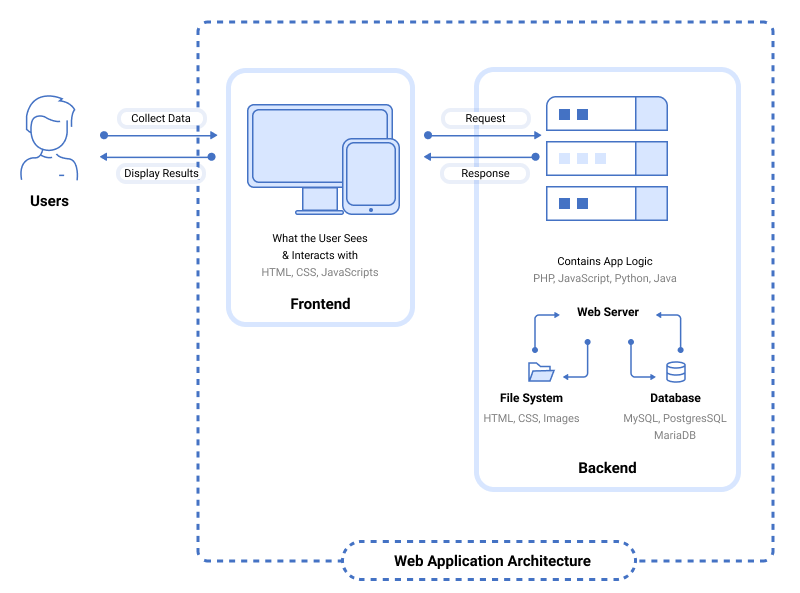 Application fields
Usually, a potential user is used to buying software that he is going to install on his computer. The software publisher, in a coherent logic of profitability, will plan to offer many features to attract the widest possible audience. The user will therefore end up with a solution of which he will ultimately only use a tiny part.
The web application is approached in a totally different way. Indeed, the costs of custom development for the creation of web application being very accessible, the user can call on a web agency to develop a solution specifically adapted to his needs. Once developed, the solution will only offer the functionalities that users have needed and can easily evolve according to new needs.
Some examples
The examples of web applications are of course endless. Each professional may have specific needs. By way of example, we could cite:
booking management for a hotel
an online invoicing application for a business or merchant
a patient file management tool for a doctor
etc
The advantages of the web application
Today and more and more, it is possible to subscribe to web applications. The Internet user then pays monthly for access to the online service. This is the so-called SAAS business model.
We can therefore summarize the main advantages of a web application as follows:
CONTROL YOUR BUDGET AND REDUCE COSTS
the starting bet is non-existent
no infrastructure upgrades
the budget is predictable by a fixed monthly subscription
investment spread over time
you only pay for the features you use
billing is proportional to your actual consumption
adaptation, maintenance and improvement costs are included
you save money on computer equipment
TIME SAVING
implementation and deployment is faster (you sign up and everything is installed)
the circulation and sharing of data between users is optimized
you avoid the solicitation of IT personnel
more intuitive and easier to use applications
OPTIMIZED ACCESSIBILITY
universal access from any type of workstation: PC, laptop, mobile phone, tablet, etc.
no OS incompatibility (all you need is a browser)
you can work from anywhere on the planet
your data is centralized
your data is available 24/7
BETTER SAFETY MANAGEMENT
you benefit from the resources of large data center infrastructures
your access to data is controlled by identification and certificates
automatic backups
hosting of your data in a contractual framework of confidentiality
CONTINUOUS EVOLUTION AND INNOVATION
you always get the latest version
no risk of obsolescence
application upgrades are automatic and seamless
your feedback is directly taken into account for continuous improvements and innovations
you reduce electricity consumption by promoting the pooling of resources on the same servers
Your web application?
The interest for your company is to be able to allow you and your collaborators, employees, etc… to be able to concentrate purely and simply on your activity and nothing else. It is therefore important for you to surround yourself with web applications that respond as appropriately as possible to your needs and your productivity constraints. ControlSys is verry tallented company in developping web application in the Republic Democratic of the Congo. Trust us to develop your application and benefit from tailor-made tools!